Miseries of a contract labour
What is Contract Labour?
Contract labour generally refers to workers employed by or through an intermediary or a third party. Such labour can be distinguished from the permanent workers in following aspects
Absence of employee-employer relationship
Method of wage payment
No direct relationship with the principal employer
Absence of names on the muster roll of principal employer/ establishment
According to Section 2(b) of the Contract Labour (Regulation and Abolition) Act, 1970 ('Contract Labour Act'), a workman shall be deemed to be employed as "contract labour" in or in connection with the work of an establishment when he is hired in or in connection with such work by or through a contractor, with or without the knowledge of the principal employer.
Supreme Court Judgement
In a significant judgment, the Supreme Court has ruled that contract workers should get the same pay as permanent workers because denial of the principle of equal pays for equal work:
Led to exploitative enslavement,
Is a violation of human dignity, and
Is against the provision of Article 39(d) of the Indian Constitution.
Contract workers suffer because:
They lack job security and social security
They are given inadequate remuneration for the work performed.
Lack bargaining power
Trade Union 
Trade unionism is a result of Industrial Revolution. Trade unions are an association of wage earners to ensure safeguarding the interests of workers and improving the working conditions.
Various benefits that accrued due to the trade unions are as follows:
Worker Empowerment
Socialism and worker welfare
Proper regulation of personnel matters
Dispute settlement and grievance redressal
Participative decision making and enhanced bargaining power
However, the trade union movement in India suffers from a major problem. Contractual labour is neither given membership nor voting rights to which members of trade unions are eligible. This happens due to the following reasons:
Greater Management Hostility: Workers believe that forming a union which includes contract workers is bound to provoke the management into greater hostility towards them.
Management Attitude: Managements have usually been totally against discussing any issues concerning contract workers.
Vulnerability of Contract Labour: Contractual workers are highly insecure and vulnerable compared to regular workers. The chances of their dismissal from the company for indulging in union activities are very high.
Attitude of Permanent Workers: Permanent workers themselves don't want to extend union membership to contract workers because at a workplace with high number of contract workers, permanent workers could get highly marginalised.
Contract Labour in India – Provisions and Challenges
India's contract workers, with the exception of some PSUs in select sectors such as steel and coal, remain both heavily exploited and largely un-unionised. Even though various legislations and provisions exist with respect to contractual labour, there is a need to ensure their effective enforcement along with additional labour reforms to ensure their welfare.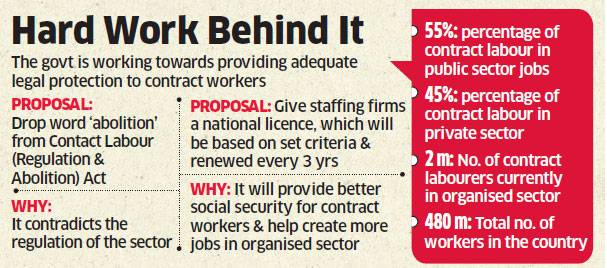 Trade Union Act, 1926
Under Trade Unions Act, 1926 ('Trade Union Act'), Section 2 (g) defines workmen as any person employed in trade or industry whether or not in the employment of the employer with whom the trade dispute arises and any workman who works in a factory can join a union of that factory. But trade unions typically have only permanent workers as members. The reason cited for this is the absence of direct relationship with the principle employer.
Contract Labour (Regulation and Abolition) Act, 1970
Contract Labour Act was enacted to abolish contract labour. This Act on the other hand cemented their exploitation by offering a legal operating framework to labour contractors. Prior to this legislation, temporary and permanent workers could make claims on their employer and negotiate as members of the same union. But the Contract Labour Act, by introducing a distinction between an 'employer' and a 'principal employer', increased the scope of hiring contract labour. Hence, there is a proposal to drop the word 'abolition' from the name of the Act.
When the Contract Labour Act was enacted it expressly prohibited the employment of contract labour for core production work. As a result, workers are shown to have been hired for non-core jobs such as cleaning or gardening. But once the worker is employed, he is engaged in production work and there is no documentation to show that a contract worker is actually in production.
Conclusion
There is an urgent imperative to stop this growing exploitation of contractual labour. The sooner companies realise the larger implications of their short-sighted approach, the better, not only for their own sake, but also for society at large. Further, labour reforms to address the above concerns are also important for the success of Make in India and for India to climb up the rankings on World Bank's Doing Business Report.